Welcome to the Early Years Foundation Stage
Nursery Class (NB)
"We are all different, but there's something kind of fantastic about that, isn't there?"
-Roald Dahl
Nursery Staff 
Mrs Banks, Mrs Spooner, Tasha and AbiHello and welcome to Catshill First School and Nursery!-compressed

Nursery Information
Please send a named water bottle and book bag daily.
The Nursery children are now bringing home a 'Bedtime Story' book and reading diary to share with you.  Enjoy this time to read together with your children, more information about reading and it's importance can be found here https://www.booktrust.org.uk/books-and-reading/tips-and-advice/reading-tips/
We will change books once a week within the Nursery, however, if you'd like to change the book more often there will be a 'Book Box' and sign out sheet so that you and your child can do this together on a Thursday and Friday.  Please may we ask for water bottles to be kept out of the book bags to prevent leaking and damage, thank you.
PE is on a Monday afternoon and a Friday morning.  Children do not need to bring in a PE kit, but please come to Nursery wearing suitable clothes for physical activity (shorts, leggings/joggers, t-shirts).  The children will be taking their socks and shoes off and putting them back on, so please practise this skill at home with them.
Forest School will begin later in the year and you will receive more information about this at that time.  However, please bring in named pair of wellies for your child to keep in Nursery throughout the year as they may be needed for our daily outdoor learning time.
Milk is free for children under 5, make sure to sign up though, through the 'Cool Milk' website https://www.coolmilk.com/
Our Learning Journey…
Autumn 1 – Marvellous Me!
This topic helps us to get to know your children, so that they are happy and settled within the Nursery and we can plan for their learning.
We have enjoyed sharing stories about ourselves and families such as 'Friends' by Kim Lewis, 'Once there were Giants' by Martin Waddell and 'We are All Different'.
If you can, please send in a family photograph to support this aspect of the topic or email it to Mrs Banks (jcb109@catshillfirst.worcs.sch.uk) or Mrs Spooner (ejs104@catshillfirst.worcs.sch.uk).
Autumn 1 has been great fun, we have really enjoyed getting to know your children.  We've finished off the half term by having a 'Spooky Week, and the children have loved it…from potions and skeleton dancing to making wands, broomstick races and scooping out pumpkins!  We hope you have a great half term break, enjoy any Halloween Celebrations you may be attending and we look forward to seeing you on the 1st November.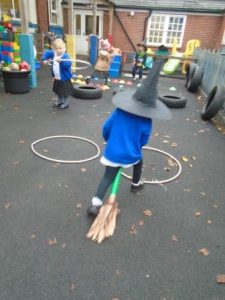 If you do go out and about over the half term and want to share any of the activities you enjoy as a family please share them via Tapestry or email them to Mrs Banks (jcb109@catshillfirst.worcs.sch.uk) or Mrs Spooner (ejs104@catshillfirst.worcs.sch.uk).
Autumn 2 – All About Autumn!
We will begin this half term by celebration Bonfire Night and Diwali.  As we go through the half term we will be keeping an eye on the Autumnal changes in the outdoors and learning about some British Wildlife such as owls and foxes and maybe some more unusual wildlife too… (Gruffalos, which can be found in a few of the local Woodlands!).
Spring 1 – Winter Wonderland
The children really enjoyed finding out about animals last half term se we have decided to take their interest further and will be finding out about animals that live in 'Snowy' places.  This will begin with Arctic and Antarctic animals, and will we share stories such as 'Say hello to the Snowy Animals' by Ian Whybrow and 'Lost and Found' by Oliver Jeffers.  This topic will also give us the opportunity to find out about ice and snow and make the most of the Winter Weather, as well as looking at some animal life cycles.  Throughout the half term will we mark celebrations such as Chinese New Year and Valentine's Day.