Welcome messages from Mrs Crawford-Brown and Mrs Jones
Click here to see Welcome Booklet for Year 1
Helpful Information
Below are some photographs to show you where your child will be greeted in the mornings and where they will need to be collected from. We've also uploaded some photographs of the classroom door and room.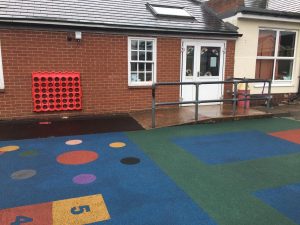 A message from Mrs Crawford-Brown and Mrs Jones
In Year One we have many special jobs such as cloakroom, pencil, fruit and lunch monitors. In September we will discuss these jobs with the children and assign them to one. We pride ourselves on working as a team and each member of the class will feel valued. The children will be staying in their current classes (RL will become 1CJ). Miss Loveridge has spoken to us about each child and we are keen to learn even more about them. We will be doing lots of fun activities and have lots of opportunities to learn through play. We know that the long closure has meant that the children have missed out on a lot of curriculum content; we will work with all of them to make sure that they catch up in Year One as much as possible. We will revisit and cover areas of the curriculum from Reception and assess where the children are including how we can support their emotional, social and academic progress. Mrs Crawford-Brown works every Monday and Tuesday and Mrs Jones works every Thursday and Friday. We then alternate and work every other Wednesday. Mrs Wiley works full time across the week. We ensure there is consistent communication between the team to ensure a smooth transition between the teachers. We look forward to meeting you all and are very excited about the year ahead. Team 1CJ!