A welcome message from Miss Fletcher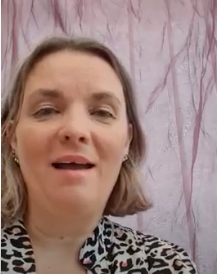 Click here to see Welcome Booklet for Year 2
Helpful information
Class 2F will be greeted in the morning at the door shown in the photo below. This is situated in the corner of the Key Stage 1 playground, also photographed below. 
The door to the classroom is the first door on the right and the classroom is in the process of being organised for their return. It may look a little similar to the photograph below. 
A message from Miss Fletcher:
I am really looking forward to September and hope you are too. Mrs Partridge is moving up with the class (you are staying together so you will be with all your friends) in September and we are both really excited to continue your learning journey.
Here is the link to the transition video (which tells you more about our topics):-
https://www.catshillfirst.co.uk/1cj-to-year-2/
We will have class jobs but if you don't want one that is ok.  I know some children love to have a job because they love to help so we can sort that in September.
My job is to help you learn and try to make it as fun as possible! If you find something hard please tell me and I will work with you to help you understand! You might even find some of the maths easy and then I will try to give you a challenge. The most important thing of all is that you feel confident in what you are learning!  If you feel worried about telling me about any difficulties then speak to a grown up you trust so they can tell me and I will help you.  We will continue reading the books that you were having in Year One. In September we will be hearing you all read to see how you have got on at home. We may need to revisit some books you have already read but please do not worry because we want you to be confident with your reading and continue to enjoy it!  If you are worried about your reading then please speak to us and we are always happy to help. I will read a story to you every day!
I know how well you were all doing in Year One and I know there has been a period of time where you have not been in school.  In September we will very quickly look at what you have remembered and plan our learning around any gaps as well as moving forward with the Year Two curriculum. I like to send a little English and Maths homework.  Reading however is essential and if you could read daily for at least 10 minutes then that will have a huge impact on learning.  We will be doing lots of reading! We love reading at Catshill!
There are some pictures on the transition page on the website that show you the classroom. We have our Zones of Regulation up on the wall ready to talk about how you are feeling. I am feeling GREEN about returning to school and am very excited about our new learning!
We may not be out with all of Key Stage One but we will have breaks and lunchtime. We have snacks and milk as normal too. Star of the week assembly- We may not do it in the hall to start with like we have done in the past but we will in the classroom and I have a little star of the week display board ready to show who the stars are for the week.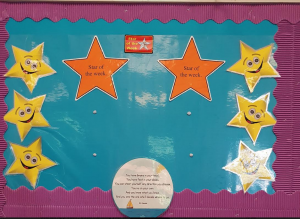 A few things about me!
I love to do arts and crafts. We can be so creative in 2F. We will make things, paint and even sketch pictures! If you have any ideas please share them with me! I love reading. My favourite authors are:- Andy Seed, Maurice Sendak and Jonny Duddle. I have a cat called Martha who follows me everywhere (except to school) and she sleeps a lot too. I love crafting and make my own cards. My favourite colour is green. I love music and can often be found playing my favourite music in the classroom before you all come in. I love kindness, and try to be very kind!I love camping and go camping a few times a year.  It is so fun exploring new places. I sometimes get the giggles over silly things!
Have a WONDERFUL summer! Make sure you have fun!  Get ready to tell me all about you in September.